BHUTAN – WEST TO EAST
Highlights: experience of some of the world's most unspoilt mountain scenery, authenticity
of local culture
Challenges: mountainous territory, length of some of the rides, altitude
Bhutan's reputation on the world stage is dominated by cliché. This is partly thanks to a
rather throwaway comment during an interview for a newspaper by the former King, Jigme
Singye Wangchuk, about "Gross National Happiness". Thankfully, most of the country's
image, its scenic beauty, its dedication to tradition and to the Buddhist religion, its natural
purity is not clichéd but well deserved.
The geography of Bhutan has been likened to a giant staircase, ranging from the peaks of the
main Himalayan range to the subtropical edges of the Brahmaputra basin. The main valleys
run from North to South for which reason the traveller on Bhutan's only main road that links
the Eastern and Western ends of the country, has to scale several mountain passes of
considerable elevation (3.100 – 3.900m). This makes traversing Bhutan such an attractive and
challenging proposition for the cyclist.
Paro is the logical entry point since it is the only airport with international flight arrivals.
After a day of exploring the Paro Valley and the country's most famous sight, the so-called
Tiger's Nest, the tour begins in earnest with a ride to the capital, Thimphu.
After leaving Thimphu, every day will feature at least one major mountain pass. The road is
sealed throughout and has been upgraded recently. Ascents are long but the gradients are
within manageable range. The constant change of climatic zones and the generous views of
the stunningly beautiful countryside make long hours in the saddle a true experience.
After Bumthang, the route enters the remote East of the country. Ura has preserved some
authentic rural lifestyles while Mongar's main sites, its dzong (fortress-monastery) and
Yagang Lhakhang Monastery) are hardly ever visited by foreigners. Since domestic flights
have resumed from Yonphula back to Paro, one no longer has to cover the return trip by road.
This tour can be undertaken with a MTB or a sturdy road bike. The altitude is noticeable
during physical exertions but is below the risk level for serious altitude sickness. The
itinerary below does allow some time for visiting sites but more days should be calculated if a
closer look at the highlights around Thimphu or Bumthang is called for.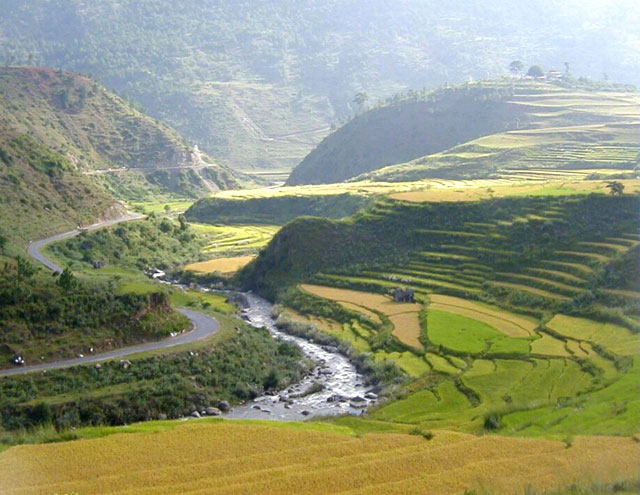 Itinerary
1. Arrival in Paro
Rest/acclimatisation or ride up to Chelela (highest motorable pass in
Bhutan, 3.900m, 38km from Paro)
2.  Paro
Ride up Paro valley for views of Jomolhari Mountain (over 7.000m) and ruins of
Drukgyel dzong. Continue by bike and on foot to Taktshang Monastery, Bhutan's
most famous and iconic sight, in the mountains high above Paro Valley.
3. Paro – Thimphu (52km)
This is an easy ride without any major ascents. Tachogang
Lakhang (monastery) with its reconstructed iron bridge is a point of interest en route.
4. Thimphu – Punakha – Wangdue (95km)
This is the first big day in terms of cycling.
Just after passing Simtokha, Bhutan's oldest fortress, the road starts to climb up
towards Dochula Pass (3.100m). On a good day, there is a fantastic view of the high
Himalayas from the top of the pass.
5. Wangdue – Trongsa (123km)
Another challenging stage, as the road climbs straight
up from Wangdue towards Pelela Pass (3.300m). Trongsa dzong has the most
spectacular location and comes at the end of a stunningly scenic and exciting ride.
6. Trongsa – Ura (110km)
Bhutan offers a great deal of scenic variety, as will be
evident on this stage which offers great mountain views, unexpected examples of
cultivation and sights like Chendebji Chorten (stupa). Past Bumthang, with its many
religious sites, and the stunningly evocative Membartso site (Burning Lake) the route
leads on to Ura Valley.
7. Ura – Mongar (129km)
This is one of the biggest challenges in terms of cycling, as
the road goes up to c. 3.500m altitude before dropping down to the town of Mongar.
8. Mongar – Yonphula  ( Tashigang )  (65km)
the route climbs back up to 2.700m.  Overnight in Hotel at Tashigang.
Yonphula  domestic Airport  ( 2,743 m )
9. Yonphula ( Tashigang ) – Paro
Early morning drive to Yonphula airfiled. Fly the domestic airlines from Yonphula to Paro. Enjoy the beautiful views of Bhutanese Himalayas from the flight.
Dinner and overnight at Paro Hotel.
10. Exit Paro. 
After breakfast in hotel, drive to Paro international Airport and fly to your destination.
---
Note – Alexander Koller , ak10019@gmail.com, is tour leader and frequent traveler to Bhutan with his group.  He has cycled up the Chelela-Pass and organizing this cycle tour in Bhutan ( west to East ).  His website is www.adventurecycletours.net.
Alexander Koller on Chelela Pass in Bhutan.